The Significance of Exhibition at the School of Arts
Why We Organize Art Exhibitions Every Year
The school of Fine Arts boasts of an exhibition gallery where exhibitors can showcase their works of art during designated periods by the institution. Arts exhibits are often conducted three times a year at the college. The first exhibition is held in February while the second one is often conducted in June and the third one is reserved for November or December every year.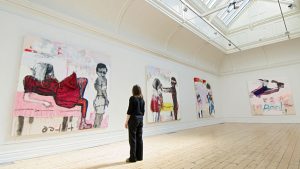 Can Anyone Attend Or Display Work?
Exhibition at the school of arts is by membership only but one notable aspect is that any member of the public can participate as long as they are comfortable with paying the stated membership fee which is valid for one year. The other good thing is that the membership is renewable upon expiry of its one year period of validity and a small fee is charged compared to the amount initially paid for joining the club.
Chance To Sell And Showcase Talent
The exhibitors showcase their work of art in the school gallery with the aim of selling their pieces of art as well as simply showcasing their talent to different visitors who happen to visit the art gallery at different periods. When any sale has been conducted on behalf of the artist, a certain percentage between the ranges of 20 to 30 percent is charged. This contributes towards the revenue that is used in the day to day operations of the institution that is self-funded.
Exhibitors who are 16 years old and above are the only people who are allowed to participate in different exhibitions that are held at the school of fine arts. The exhibitors should also note that only original work is considered for exhibition. The artists should also be in a position to prove that they are the ones who produced the work before it is accepted for exhibition. The other issue is that the school is not liable for any loss or damage of work left in its gallery by the exhibitors.